Red Carpet Recap: Golden Globes 2010
{My Favorite of the Night: The Amazing Emily Blunt in Dolce & Gabbana}
This year's Golden Globes were a bit of a let down fashion-wise. The show was actually very entertaining and was peppered with both funny and touching moments: Ricky Gervais calling Mel Gibson out on his drinking, Mo'Nique's, Meryl Streep's, and Sandra Bullock's touching acceptance speeches, and my favorite speech of the night by the hilarious Robert Downey, Jr. So, while I enjoyed the show, I can't say I was blown away by anyone's dress. A handful got it right, but the overwhelming theme of the evening seemed to be tacky, overly adorned prom dresses in garish colors. I won't focus on the negative, but I will share my favorites of the evening with you.

I loved Julia Robert's drapey, black jersey dress. I could totally see myself wearing this. She definitely stood out in a sea of tacky prom dresses this year.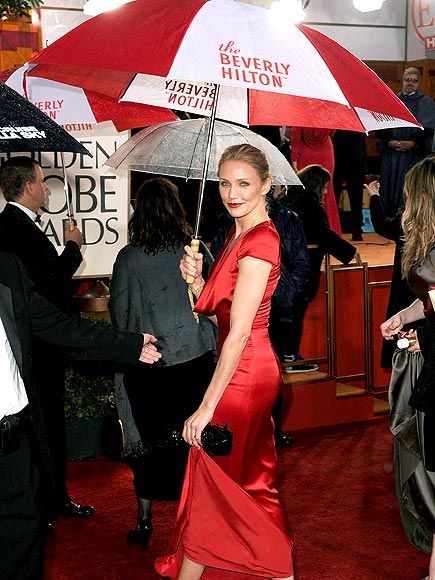 I actually liked Cameron's red Alexander McQueen dress. If styled just a little differently, it may have swayed more people to like it. I do think however, that her shiny makeup and pulled-back hair looked much too severe.
I really liked January Jones' look. I love that she wore a chic black Lanvin gown in a sea of cotton candy hues. The headband is darling and lends a vintage vibe. Does anyone else think she looks much prettier in character for Mad Men than she usually does in modern day clothes?
I liked Anna Paquin's Stella McCartney gown. She looks great in gold and the shape is lovely on her. I just wasn't crazy about the shoes she paired with it.
Reese Witherspoon, one of my personal style icons looked beautiful at the Globes. The shape and color of her dress were classic and I loved that she didn't overdo it with the accessories. She, along with Emily Blunt had my favorite looks of the evening.
Image Credit: Getty Images
You May Also Like...